Sept 1st - 5th 1999
This time we decided to do the trip in style. My parents were visiting us from Wales, and we'd arranged it so that we'd be in Death Valley for my Dad's 75th (9/3/99) birthday.
We'd booked rooms at the Furnace Creek Inn, so we had 3 days (or so) to show them all the sights.
Sept 1
We hit the road on Wednesday 9/1/99.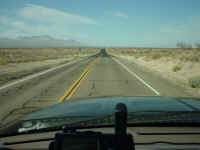 The road from Mojave to Inyokern. Click for a larger view.
We drove to Ridgecrest and spent the night at the Carriage Inn.
---