NOTE: Since these photos were taken, a large flash flood has re-arranged the mouth of the Canyon and the Park Service has implemented some of the vehicle restrictions required when the Nation Park was created/extended. See below for details.
This is one of the easier 'off-road' trips, assuming it hasn't been raining. The trail starts with a quick dash across the sandy wash. Be careful of the whoop de doos and keep your speed down or the vibrations from the washboard will cause something to work loose.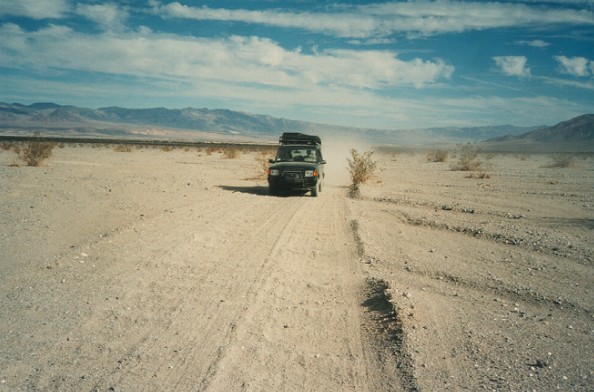 As evidenced by.......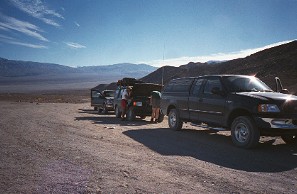 Ken's electric's play up.
Well let's camp here anyway. Note: The photo below was taken during our May '98 trip.
This spot is 8 miles in. It's a great camping site. Ken's flashers had gone on for some reason. Here he fixes the problem by pulling the main fuse. This had the side effect of requiring the security code for his CD to be entered (which he'd forgotten of course).
Below is the entrance to Marble and Cottonwood Canyon. The drop into the wash is on the left side of the picture. Compare the picture below from May '98 to that of Jan '00 and see what the effect of water in a desert can be.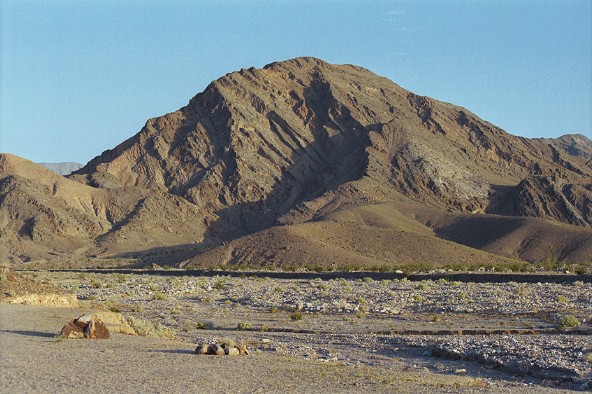 Immediately after the flat shoulder above, you drop into the wash and canyon proper. Here Susan starts into the wash.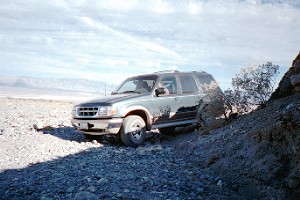 Looking back at the wash entrance, trucks in distance.
The trail becomes narrow, you spend most of the time dodging rocks.
If you take the right hand fork to Marble Canyon, you'll come across a number of dry waterfalls. Darren is our resident waterfall climber.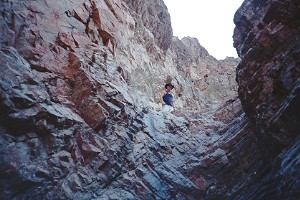 Toward the end of the Canyon is a really tight fit. Susan only just gets through. My F-150 had its left wheels partly on the rock. This is the spot made famous in Ruth Kirk's guide book.
NOTE: Since these photos were taken, the upper reaches of Marble Canyon have been closed to vehicle traffic. The last mile or so is now contained within a designated Wilderness Area. So you'll need to walk/hike the last part of the trail to get to the boulder choked area.
The trail continues onward from here but you'll need to climb over a huge boulder.
After a fun afternoon, the sunset was spectacular.
Time for dinner and some well earned rest.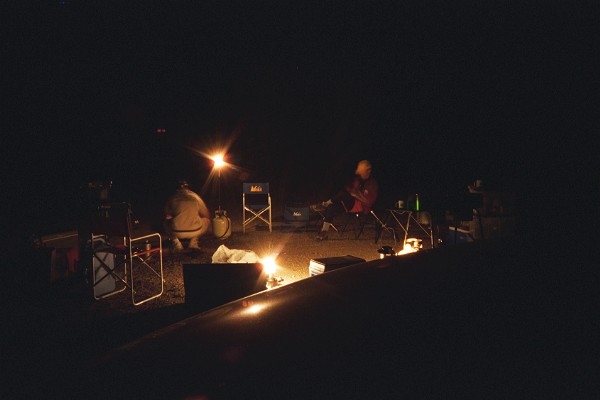 ---